Ergonomic Multi-Functional Chair | Green Soul (GS-350) | India 2022
Why should you prefer an ergonomic multi-functional chair and not just any other ergonomic chair? Well, there are a lot of reasons. Since most of us are working from home these days. it's not just office duties that are taken care of while we are in front of our workstations.
As per new studies coming in, most working professionals have been found quoting that boundaries between work and home responsibilities are getting blurred. As a result, we must equip ourselves with the right gear which is sufficiently multi-functional to handle varying workloads.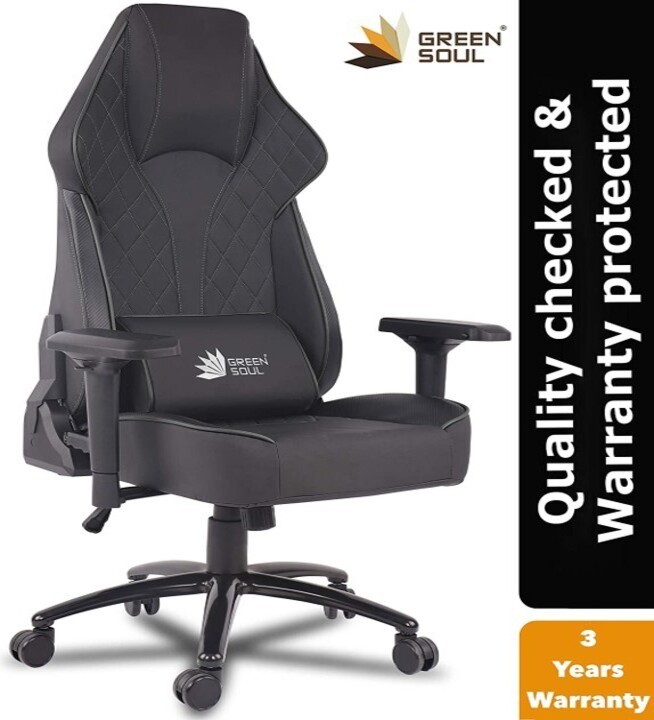 This is where an ergonomic multi¬functional chair comes in handy. As compared to other ergonomic chairs, these chairs are cushioned more efficiently to provide you comfort for longer duration. Compared to other popular ergonomic chairs where the material of choice is a mesh fabric. these chairs have a stronger support due to being made our molded foam. The molded foam is much more accommodating and lends better ergonomics.
Another benefit that we observed was better head-support, the padded cushioning allows for a more natural resting position of the head. Whereas with the mesh chairs we quite often had to consciously remind ourselves to lean back and rest on the head support from time to time.
Some of the other features along with their pros and cons that we came across were,
Multi-angle reclining back support. The chair can recline up to 135 degrees which was more than sufficient. We rarely felt the need to recline the chair to its maximum capacity. What we did however enjoy is to recline the chair to 115 degrees (and use a randomly lying foot stool within our premises) to straighten our legs after intensive work sessions. A 5-10 minute break in this position was extremely relaxing.
Multiple locking positions for arm rests which could be adjusted in four different positions. We found it pretty useful depending on the use-case and the type of activity we were engrossed it. One of our team-members summed up his experience while reviewing this feature quite succinctly. As he says "When I am Lounging around in the chair at its maximum recline, I liked my arm rests further apart for the feel of an uninterrupted space. While intensive typing sessions, I used the up-down mobility feature of the arm rests as that's where my hands naturally rest and while jumping on one zoom client meeting to another (under high pressure and when I felt an excessive need to fidget) I found myself making the most of the inwards-outwards adjustment settings of the arm rest".
The design and the looks of the chair were better than our expectations. We had the matte black version of the chair at our disposal and the color seemed to blend well with most aesthetics as we moved around the chair from a work station setting to more conservative office settings. The build quality and upholstery did not lend any doubts to our belief that the product should be durable.
Final Verdict! – If you are spending a good part of your day in front of your work stations working from home like we are, then this chair would prove to be a good investment as it not only provides great comfort but also ensures you keep a good posture.