Ergonomic Office Chair I MISURAA Xenon High Back I India 2022
A reliable ergonomic office chair is everybody's first consideration while setting up a home office.
Since, working from home has become the new normal which has made a good ergonomic office chair's presence in our homes an absolute must. I decided to share my own experience, when the work from home trend was just beginning to take effect, I was relieved. My initial thoughts were, "Good riddance, PANTS! And with you my office chair. Gone are the days when I stay stuck with you for hours".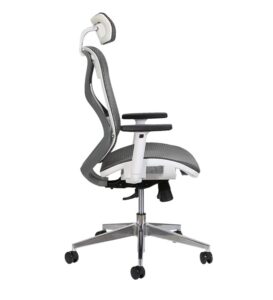 So, the first few days I thoroughly made the most of my newfound freedom. Lounging around in my bean bag, bouncing around from one zoom call to another while sinking ever so deeper into my sofa. But soon the effervesce of the joyous me fizzled away and soon I realized that I was beginning to miss my trusty sidekick – my ergonomic office chair. And thus, the hunt began for a partner in crime that would support me strongly in my office adventures albeit from home.
What were my priorities, the main features I was looking for?
• Adjustable lumbar support height
• Adjustable seal height • Adjustable one rest
• Strong Lumbar support with optimum tension
• And Last but the most important feature – HEAD SUPPORT, for those deep slumbers of procrastination, that I dive into!
After using the chair for a good one month, I found myself pleasantly surprised as not only did I find all the features I was looking for but added advantages such as the breathable mesh. It ensures that I am able to use my chair for longer duration even in
the not-so-great weather of June and July. Although, the chair was slightly on the pricier end of the spectrum but I am relieved that it didn't deter me from making the purchase because the features and the build quality of this chair justified the price. I think it would last me a while and would turn out to be an efficient purchase in the long run.
At last, my search for the best ergonomic office chair has come to fruition!