There is a lot to cover in our review of the green soul gaming chair and assembly (video available below). A gaming chair does no longer serve the single purpose of gaming, more and more people are using these chairs for their work needs as well. So, to help you find out if the Green Soul Monster GS-734U is the right chair for you, we reviewed the Green Soul gaming chair and also have for you the assembly instructions video. Here is what you should know about some of its best features and some not so great ones, before you can make an informed decision whether to buy it or not.
To begin with the first few things to consider were the size and the build quality.
The chair is huge making it more apt for people above the height of 5'6. Any shorter and you might not be able to make the most of the headrest. Me and my partner in crime (fellow reviewer) are 5 feet 7 inches and 6 feet in height respectively and both of us were pleasantly surprised that our body posture were quite at ease despite the variance in our heights. But I am sure you would realize this was because the difference becomes less pronounced when one is sitting. If you are a tall person you might've often encountered issues in finding chairs with proper lumbar support as most chairs simply do not have sufficient volume to support big body sizes. However, you would find now such issues here. In our review of the greensoul gaming chair we were pleasantly surprised that the chair was sufficiently sized and was built with good quality foam to support the lumbar area.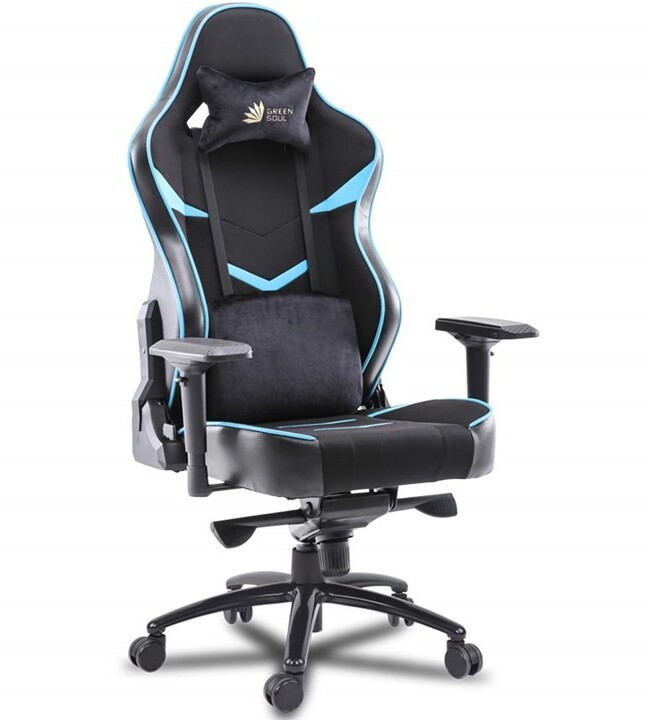 Specifications:
Product Dimensions: 50 x 71 x 133 cm
Item Dimensions LxWxH: 50 x 71 x 133 Centimeters
Weight: 23 Kilograms
Manufacturer: Green Soul
Item model number: GS 734U FullBlack
Included Components: Chair Parts and
Assembly Instructions
Green Soul Gaming Chair Review Highlight 1: The build quality
The litmus test of any good chair is its build quality. This is quite understandable since most of us want to understand the "feel" of the chair. In our review of the green soul gaming chair review, we found the build quality to be amazing, to say the least but then this is an easy box to tick for a chair at its price. Even so, a job well done in any department should be appreciated and so our verdict on the build quality – "It felt as good as it does in the images to be sitting in the chair!"
What we also liked about the chair was unlike other chairs which have a plastic base, this gaming chair has a metal base. This gives the chair a solid base which is why we found the chair to have absolutely zero wobble or fidgety issues. Thumbs up on the sturdy feel.
Green Soul Gaming Chair Review Highlight 2: Frog Mechanism
We did want to state that a lot of gaming chairs available in the market can claim similar features, so in our review of the green soul gaming chair review and assembly we decided to test the most unique feature that the chair claims to have, its frog mechanism. The frog mechanism of the chair lends it rocking capabilities which we specifically enjoyed at around 105 degrees inclination after intensive bouts of gaming, we found it to be pretty relaxing. Another nice to have feature is that the rock mechanism can be locked when not in use. So when we were not reclining or relaxing we mostly locked it in place. This definitely proved to be the most unique feature, as no other chairs in this price range that we had reviewed earlier offer it.  
The chair can recline to a straight 180 degrees which looks great but does little for practical use. Whenever we tried using it in full recline although the chair did not topple, however we did not feel stable and secure. Instead what impressed us more was a lesser stressed upon feature of the chair – the side supports, which are really relaxing to the shoulders. The side supports are designed to give you a snug feeling as you may get while sitting in the bucket seat of a racing car. The side support does a great job in ensuring that you maintain a good posture as it (kind of) holds you within it and stops you from slouching.
Green Soul Gaming Chair Review Highlight 3: Stability
One of the most popular reasons to opt for a gaming chair is to ensure that we are maintaining a proper posture while spending a lot of hours in activities such as gaming, desk-work or just lounging around. For this the chair has to be comfortable for extremely long duration of sitting. The fabric chosen for the construction should be as such that it is not uncomfortable, does not heat-up or is simply not too slippery. The manufacturers have to strike a fair balance to ensure that the chair has just the right amount of friction which ensure that while sitting we do not slide into a slouch. And these are the finer details that this chair executes to perfection.
Another feature that we tested thoroughly was playing around with the different adjustments to the ergonomics of the chair – height, lumbar support, reclining all the same time. What we were trying to test here is to find out if the chair had any stability issues or gave any sudden jerks while making various adjustments. But here again the chair passed with flying colours. And the main reason for the smooth adjustments proved to be the class IV gas lift. This is a hydraulic gas lift which makes it reliable and smooth for long duration usage.  
Green Soul Gaming Chair Review Highlight 4: Overall Feel
In our review of the green soul gaming chair, we realised that the average consumer purchasing this chair would not only use this chair for gaming but also extend its use while working from home or just casual browsing of the internet. All of these activities can be pretty intensive and thus mean that we end up spending long duration within our chairs. So it was obvious for us to test whether the chair heats up or does the seating area fail to regain its resting state after prolonged usage. The chair showed great results here and most of it could be attributed to the material chosen for its construction which is moulded foam paired with spandex fabric. While the moulded foam did great in regaining its shape, the spandex fabric ensured that the chair does not heat up even after prolonged duration of usage. At no point of time did we observe a heat build-up or the feeling of sweating even in slightly warmer weather. We tested the chair in both environments air cooled vs air conditioned and observed similar results.
Another consideration for almost anybody wanting to order a gaming chair for computer work is the time it takes to be delivered. This is where our experience may vary from yours. We pre-ordered the chair and it mentioned that it will take a certain number of days to arrive and that it id. Although the time for delivery was longer for us as it was in a pre-order phase, you may receive it much sooner now that the chair order are being actively fulfilled.
Lastly, about the assembly! We saved to talk about this in the end as we wanted to offer a small caveat to note. Although the retailer does offer chair assembly on request, however we do all our assemblies ourselves to include the pros and cons of it in our posts. And we feel that although the assembly of the chair is not a complicated process, it is however time consuming. You may have to be sure which nut or bolt to use before you put it in place or you may find yourself repeating the step. So if you decide to assemble the chair like we did make sure to read the instruction manual carefully.
So our final verdict, are we happy with the chair? The answer to that is a resounding yes, all because of the reasons we listed. From the looks of the chair which resemble that of a racing car's bucket seat to the frog mechanism, a feature unavailable among chairs similarly priced and the superior build quality all combine together to make it a value for money chair providing you the best bang for your buck!
For a head to head comparison among our most favourite picks among mesh chairs with headrest. CLICK HERE!